43 plus ratings     120K + learners
✅Course specially designed for beginners with no programming background
✅Learn about Cryptography, Wireless Hacking and more from the basics, so that you don't have to scratch that amazing head of yours. 
✅Exposure to powerful concepts like Reverse Engineering, Reverse Engineering, stress testing and more..
✅Real projects that helps you get hands on experience and gets your resume  noticed
✅Interview preparation like no other. 
About Cyber Security Training Course Details
Cyber security is the process of defending and securing computers, networks, servers, data, and systems from malicious online attacks therefore in the current time is of utmost importance for businesses. Through this Cyber Security training course, you will learn and master various skills and techniques in Cyber Security to protect yourself in the digital world. Cyber security training courses is available both Online and Offline.
Why should you take up this Cyber Security course?
In this course, you will be trained practically in important cyber security concepts such as cryptography, network security, ethical hacking, etc. The industry is always on the lookout for trained cyber security professionals who have in-depth knowledge of these topics.
What skills will you acquire from this Cyber Security Bootcamp?
Defining the design, architecture, and management of an organization's security
Performing data loss prevention and risk analysis
An understanding of the security architecture, models, engineering, and cryptography
What are prerequisites to join the Cyber Security program?
A keen interest in making a career in the management-level Cyber Security and IT security
Little experience in any one of the security domains, such as cryptography, access control, operations security etc.
What are the jobs available after the Cyber Security certification?
Information Security Analyst

IT Security Architect

Security Consultant (Networking/Computing/IT)

Senior Security Consultant

Chief Information Security Officer (CISO)

Information Security Manager
Day 1 – Introduction to Cyber Security
Day 2 – Linux overview
Day 3 and 4 – Wireless Security
Day 5 – Line of Defense
Day 6 – Cryptography
Day 7 and 8 – Information Gathering Mastering
Day 9 – Operating Systems
Day 10 – Reverse Engineering
Day 11 – Password Attacks
Day 12 – Stress Testing
Day 13 & 14 – Vulnerability Analysis
Day 15 & 16 – Cyber Forensics
Day 17 – Project 1
Day 18 – Project 2
Day 19 – Project 3
Day 20 – Project 4
Day 21 – Report making
Why Zenfotec Solutions is the best Cyber Security Institute In Bangalore?
Cyber SECURITY CERTIFICATION
Our training and certification program at Zenfotec will provide you with a solid understanding of the key topics covered on the Cyber Security Course. it includes real-world projects and highly valuable case studies. The certification validates your ability to produce reliable, high-quality results with increased efficiency and consistency thereby opening opportunities across the world.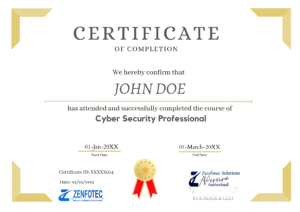 What our happy customers have to say about us?
Really a very good institute for Tableau courses. Trainer is very experienced and certified consultant. I enrolled for Tableau Certification program.....
I joined Zenfotec to take training for SAP SD. My overall experience is good. The knowledge and guidance provided by Sandip sir and Sunny sir is very helpful to me. Thank you.
I enrolled for SAP SuccessFactor training and strongly recommend to my colleagues to join Zenfotec.Now I have 'Global Certification' from SAP GE.
Attended SAP MM course here. Sandip Sir's knowledge on SAP MM / S4HANAN is outstanding. All doubts are clarifiedThe team will assist with SAP certification process
Some of the companies that hire our candidates