Data Analyst Course for Beginners
43 plus ratings     120K + learners
✅Course specially designed for beginners with no programming background
✅Learn SQL from the basics, so that you don't have to scratch that amazing head of yours. 
✅Exposure to powerful tools within Microsoft Excel and Power BI
✅Real projects that helps you get hands on experience and gets your resume  noticed
✅Interview preparation like no other. 
About Data Analyst for Beginners Training Course Details
Data analyst courses are an excellent option for college graduates who want to kickstart their career in data analytics. These courses provide students with the essential skills needed to succeed in a data-driven world, increase employability, and earn higher salaries. By enrolling in one of the top data analyst courses available, graduates can gain a competitive edge in the job market and position themselves for success in this exciting field. If you are aware of any programming knowledge and would like to upskill, you can definitely have a look at our Data Analyst Training for Experts for more information. 
Why should you take up this Data Analyst for beginners course?
Employers are looking for candidates with relevant skills and experience & can make you stand out in a crowded job market.
Earn Higher Salaries: According to Glassdoor, the national average salary for a data analyst is $62,453 per year.
What skills will you acquire from this Data Analyst for beginners Bootcamp?
Students will learn how to use tools such as Excel, SQL, and Power BI to manipulate and analyze data.
What are prerequisites to join the Data Analyst for beginners program?
The prerequisites to sign up for this Data Analyst for beginners program are as follows:
A keen interest in making a career in the Data Analytics and Business Intelligence.

Little experience in Microsoft Excel or SQL would be helpful.
What are the jobs available after the Data Analyst beginners course?
Some of the most popular and in-demand job roles include:
Business Analyst
Business Intelligence
Data Analyst
MIS Executive
Information Management Specialist
Business Intelligence Consultant
Introduction to Excel

Data Entry and Formatting

Basic Formulas and Functions

Charts and Graphs

Conditional Formatting

Filtering and Sorting Data

PivotTables and Pivot Charts

Excel Templates and Macros

Collaboration and Sharing

PROJECTS: (Any 2)
Introduction to SQL and MySQL

Basic SQL Statements

Advanced SQL Concepts

Window functions

Database Design and Normalization

MySQL Administration

Project/Lab
Unit 1: Understanding Business Intelligence
Unit 2: Understanding Power BI
Unit 3: Getting Started With Power BI
Unit 4: Getting Data in Power BI Desktop
Unit 5: Data Transformation
Unit 6: Introduction to Power Query (M Formula Language)
Unit 7: Data Modelling
Unit 8: Introduction to DAX
Unit 9: Data Visualization
Unit 10: Creating Custom Visuals
Unit 11: Visual Interaction
Unit 12: Exploring Filters
Unit 13: Creating Custom Slicers
Unit 14: Exploring Power BI Desktop Features
Unit 15: Power Bi service Features
Unit 16: Dashboard
Unit 17: Natural Language Query
Unit 18: Power BI publisher for excel
Unit 19: Quick Insights
Unit 20: Sample Reports and Dashboard
Unit 21: Power BI mobile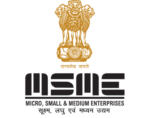 Why Zenfotec Solutions is the best Data Analyst Institute In Bangalore?
DATA ANALYST ASSOCIATE CERTIFICATIONS
Our training and certification program at Zenfotec will provide you with a solid understanding of the key topics covered on the Data Analyst for Beginners. it includes real-world projects and highly valuable case studies. The certification validates your ability to produce reliable, high-quality results with increased efficiency and consistency thereby opening opportunities across the world.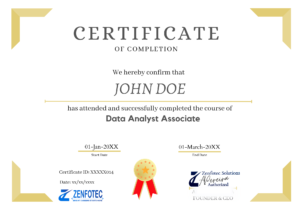 What our happy customers have to say about us?
Really a very good institute for Tableau courses. Trainer is very experienced and certified consultant. I enrolled for Tableau Certification program.....
I joined Zenfotec to take training for SAP SD. My overall experience is good. The knowledge and guidance provided by Sandip sir and Sunny sir is very helpful to me. Thank you.
I enrolled for SAP SuccessFactor training and strongly recommend to my colleagues to join Zenfotec.Now I have 'Global Certification' from SAP GE.
Attended SAP MM course here. Sandip Sir's knowledge on SAP MM / S4HANAN is outstanding. All doubts are clarifiedThe team will assist with SAP certification process
Some of the companies that hire our candidates